Tutorial ini untuk membuatkan tulisan dalam blog korang tak boleh dicopy oleh orang lain semata2 untuk mendapatkan trafik.
Straight to the point,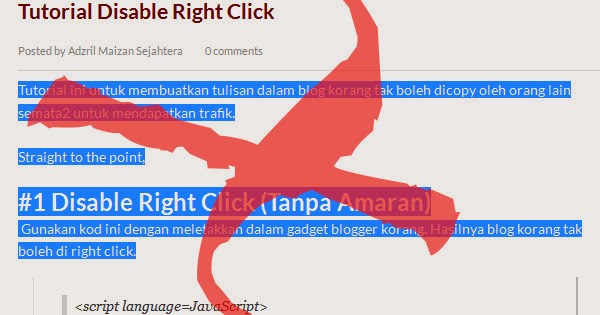 Anti Right Click dan Selection
#1 Disable Right Click (Tanpa Amaran)
Gunakan kod ini dengan meletakkan dalam gadget blogger korang. Hasilnya blog korang tak boleh di right click.
<script language=JavaScript>
<!–

//Disable right click script III- By Renigade (renigade@mediaone.net)
//For full source code, visit http://www.dynamicdrive.com

var message="";
///////////////////////////////////
function clickIE() {if (document.all) {(message);return false;}}
function clickNS(e) {if
(document.layers||(document.getElementById&&!document.all)) {
if (e.which==2||e.which==3) {(message);return false;}}}
if (document.layers)
{document.captureEvents(Event.MOUSEDOWN);document.onmousedown=clickNS;}
else{document.onmouseup=clickNS;document.oncontextmenu=clickIE;}

document.oncontextmenu=new Function("return false")
// –>
</script>
#2 Disable Text Selection
Kod ini menjadikansebarang tulisan/text dalam blog korang tak boleh di select, jauh sekali dicopy.
a. Copy code ini dalam ruang selepas <head> atau sebelum </head> dalam template blog korang.
<script type="text/javascript">

/***********************************************
* Disable Text Selection script- © Dynamic Drive DHTML code library (www.dynamicdrive.com)
* This notice MUST stay intact for legal use
* Visit Dynamic Drive at http://www.dynamicdrive.com/ for full source code
***********************************************/

function disableSelection(target){
if (typeof target.onselectstart!="undefined") //IE route
target.onselectstart=function(){return false}
else if (typeof target.style.MozUserSelect!="undefined") //Firefox route
target.style.MozUserSelect="none"
else //All other route (ie: Opera)
target.onmousedown=function(){return false}
target.style.cursor = "default"
}

//Sample usages
//disableSelection(document.body) //Disable text selection on entire body
//disableSelection(document.getElementById("mydiv")) //Disable text selection on element with id="mydiv"

</script>
b. Copy code ini dan letakkan dalam gajet/widget blog korang (widget html/text)
<script type="text/javascript">
disableSelection(document.body) //disable text selection on entire body of page
</script>
Seterusnya korang kena buang link untuk sebarang gambar. Maksud aku link untuk mendapatkan sumber asal gambar itu, kalau link ke url lain ok je takder masalah.